Hernando's MYC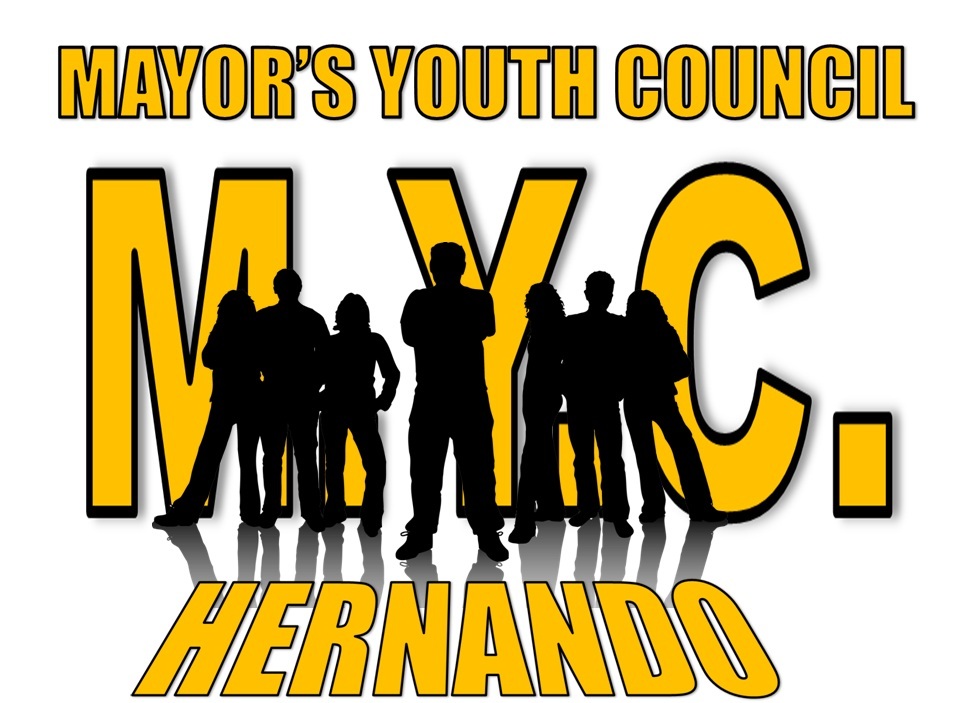 About Mayor's Youth Council Hernando
The Mayor's Youth Council of Hernando was founded in September 2011. It started with Mayor Chip Johnson, Mr. Doug Ferguson, Ms. Julie Havvk, and other sponsors who started at the beginning of our organization. Since that year, we have strived to let the youth of Hernando have a voice in the community. In addition to creating a voice for Hernando, we also participate in community service and any project that may come our way. Presently, we have about 30 active participating members since the time that MYC has been here. Currently, our leadership consists of the following:
President: Hunter Ward
Vice President: Andrew Sweatt
Secretary: Claire Ferguson
Parliamentarian: Misahel Tello
Historian: Carter Rice
Director of Communications: Mariah Wallace
As the voice of our youth, we strive to make a difference and an impact in the city of Hernando.
If you would like to attend the weekly Alderman meeting they are on the 1st and 3rd Tuesdays.

Events
December 18th-Christmas Food Drive @ Landers Center. Please wear a Santa hat if you have one!
Next Semester Meeting Dates-January 16, January 30, February 13, March 6, March 20, April 3, April 17, May 1
Hours Are Wear!-If you are planning to attend the MYC conference 2013 you must have 18 hours before February! If you are not, you still must haved 18 hours by the last meeting May 1 to stay on the council! (No Excuses!)
New Leadership-Elections and details will be revealed soon, but please be aware!
We all would like to thank all our Christmas Carolers for going to carol and Raquel Expedita and her family for their hospitality and great gathering.
*It is also encouraged to go to Alderman Meetings! They are the 1st and 3rd Tuesdays! Please attend.
MYC keep up the good work!